Children's hospitals in at least 10 states have reported massive increases in cases of Entrovirus 68.  Health officials believe that the rare virus is what has caused thousands of children across the United States to become sick.
Children's Hospital Colorado have treated more than 900 children for severe respiratory illnesses since August 18, with 86 admitted to the hospital.
The Columbus Dispatch reported that Nationwide Children's Hospital in Ohio's capital reported seeing an average of 73 patients with respiratory complaints per day between August 31 and September 2, a 40 percent increase in the last month.
At St. Louis Children's Mercy Hospital has seen more than 300 cases of enterovirus 68 since mid-August. A doctor there says the children have difficulty breathing with 15-20% required to be put on a ventilator.  St. Louis Children's Hospital reports that it has seen over 100 children with suspected entrovirus 86 in the past week.  Both St. Louis Children's hospital, and Children's Mercy are full and is not able to admit anymore patients.
Dr. Mary Anne Jackson, an infectious disease specialist at Children's Mercy, said samples they sent to the CDC were almost all enterovirus 68.  The CDC refuses implicate the virus as a cause for this latest outbreak.  Despite the fact that almost all of the samples that were submitted to the CDC tested positive for enterovirus 68, the CDC stated there is "insufficient statistical data" to reach a conclusion.
The illness appears is most common among extremely young children and children who have asthma. The CDC tells Elect Leaders that similar suspected outbreaks have been reported in nine other states — Missouri, Kansas, Illinois, Kentucky, Iowa, Ohio, Oklahoma, North Carolina, and Georgia.
Officials from the CDC have confirmed  they are investigating an unknown illness that is rapidly spreading in towns and military bases that has been housing the countless illegal aliens. The CDC has sent in "outbreak specialists"  who are  attempting to determine if it is bacterial or viral.
In July Fox News reported that a private security company contracted by the government threatened to arrest doctors and nurses if they divulged anydetails about the contagion threat military base housing illegal aliens at Lackland Air Force Base in San Antonio, Texas.  Oklahoma congressman, Jim Bridenstine was denied entrance to Ft Sill in Oklahoma to see what was going on.  The question is what are they trying to hide.
I just wish the government was as concerned about the spread of disease and illegal aliens as they were trying to stop the truth from being told by the media.  Let us know your thoughts below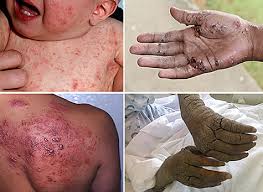 Additional outlets reporting on this include Judicial Watch, Fox News, and the CDC
http://www.cdc.gov/mmwr/preview/mmwrhtml/mm6332a4.htm
http://www.judicialwatch.org/blog/2014/07/illegal-alien-minors-spreading-tb-ebola-dengue-swine-flu
http://www.foxnews.com/health/2014/09/07/respiratory-illness-believed-to-have-hospitalized-hundreds-children
Illegal Immigrants Tied To Pandemic Diseases Now Appearing in US
was last modified:
September 8th, 2014
by